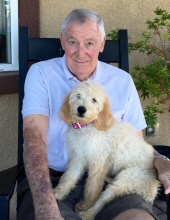 Obituary for Eric Bernard Smith
Eric Bernard Smith was a 24 year resident of Shirley England; a 45 year resident of Costa Mesa, Huntington Beach, and Fountain Valley, CA; an eight year resident of Fruita, CO; and a six year resident of Menifee CA. At 83 years old, On January 12, 2019 at 11:30 pm, Eric Smith went to be with the Lord, while at home surrounded by all of his children.
The Son of Howard Smith and Beatrice Maud Sanderson was born Oct 1, 1935 in Solihull, England.
At the age of five, Eric Survived the Bombings of England, which were called "The Blitz" Meaning Lightning war (September 1940 - May 1941). The night time bombing raids against London and other British cities during World War ll caused enormous destruction and heavy civilian casualties. Some 43,000 British civilians were killed and another 139,000 were wounded. All young children at that time carried gas masks to school and were trained how to use them. In the
evenings all residents made sure all windows were completely covered so that no light could be seen from above, preventing bombers from seeing targeted residences. During this time the children in dad's home slept under the stairway for protection. One evening my grandfather had to disarm a bomb outside of their home. Along with the wartime, came extreme rationing to endure, all sorts of essential and non-essential foods were rationed, as well as clothing, furniture and petrol in order to make the British weak. The rationing ended in 1954.
Eric finished high school at age 15 and went on to achieve his Auto-Mechanic Apprenticeship and later enlisted in the British Arms, serving his country for two years. At age 25 Eric Bernard Smith Married Margaret Florence Doak, in England June of 1959. Eric also played Soccer for many years in England, achieved great success in his hometown Soccer leagues, playing to win many cups.
In 1959 Eric was offered an auto mechanic job here in Newport Beach, CA and off they went on a grand adventure to America, where it was truly the land of opportunity. They first rented a furnished apartment for $75.00 a month, had their first daughter in 1961 at Hoag Hospital, Newport Beach, CA. They purchased their first home on Kampen Ln, Huntington Beach in 1962 for less than $20,000. Their first Son was born there in 1963. In 1964 they purchased their 2n​ d​ home on El Blanco in Fountain Valley, CA for less than $30,000 were they resided for approx. 22 yrs, and had their 3r​ d child, a girl in 1969. Eric worked in the auto industry, with a specialty in foreign & classic cars. For a few years in the late 70's and early 80's he owned a sheet metal shop and later went back to what he truly loved, restoring 1930 Jaguar's. Eric was a man of many talents; very gifted with his hands, building cabins, home additions, making furniture, fireplace mantels, stair railing,and working in the yard. If something needed to be fixed or created from scratch, he did it. He always figured it out. He had a spirit of determination. Everything was done well with great thought and craftsmanship.
Eric loved to play soccer and golf. Around 1964 - 1973 Eric join a Soccer team "The Coast Rangers" in Costa Mesa, CA. The team was very competitive, winning many trophies. The team also had the opportunity to play the LA Coliseum where he was approached by US Olympic Team and asked to join, however he was not a US citizen at the time. Later after receiving a broken leg on the field, along with another teammate he was no longer able to play soccer and continued his love for sports

on the golf course. Through his love for soccer and golf he enjoyed making lifetime friendships that became second family to him and his family.
Eric was a hardworking man, always taking care of his family. Many times he brought work home with him, working on cars in the garage over the weekend, I have fond memories of him calling us children to come and pump the brakes. He loved planning his once a year family camping trip to the mountains. During those trips, we rarely stayed too long in one spot; packing up and moving from mountain range to mountain range. He loved to see it all and explore the surroundings by hiking the landscape with us. He was fast! Us kids would have to run, just to keep up with him. He was always energetic and didn't like to sit idle. His home was very nice, but simple and clean. He was very creative and talented. You could find beautiful pieces of his furniture scattered throughout his home. He helped many and loved doing it. When Eric was mentioned in conversation, only fond words were spoken. He was truly loved by so many!
Eric is survived by his daughter Elaina King and her husband Stephen of Menifee, CA, his son Martin Smith of Golden CO, his daughter Karen Presutti and her husband Bob of Fullerton CA; his grandchildren Bryan Ras, Korey Kramer and his wife Ashlie, Jessie Ras, Kayla Kramer Banuelos and her husband Xavier, Shane Smith, Kolton Kramer, Colin Smith & Brenda Beckham; also his great grandchildren Naomi, Aria, Daisy, Kramer, and Lily, Matthew, and Ella Ras.
A celebration of life service will be held at 12:30 on Sunday, Jan 27, 2019 at 30416 Laguna Vista Dr, Menifee CA
"The Lakes Community Club House". Pastor Jim Edwards, of Revival Christian Fellowship will be officiating.
Eric touched the lives of many with love, laughter, joy, and thoughtfulness in all he did. We are going to miss him terribly, for he was always there... and we know that one day we will be together again. For I know he is dancing in heaven in a new body, working with the Lord, helping to build us all a new heavenly home. Can't wait to see you again Dad. Love you so so very much.


Previous Events
Service
The Lakes Comunity Association
30416 Laguna Vista Drive
Menifee, CA 92584