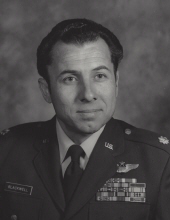 Obituary for Reginald Toney Blackwell
On Friday, January 4, 2019, Reginald Toney Blackwell, 77, peacefully passed away at his home in Temecula, California. Reg was born on March 28, 1941 in Piedmont, Missouri to William Toney and Verlie (Allen) Blackwell.

He received his Bachelor of Arts Degree in Economics from Chapman College in Orange, California, served 20 years in the United States Air Force and went on to run the family insurance business for the next 25 years.

During his military career, he was a KC-135 Navigator stationed at Castle, Air Force Base, an RC-135 Navigator stationed at Offutt, Air Force Base, an SR-71 Reconnaissance Systems Officer stationed at Beale, Air Force Base, attended Air Command & Staff College at Maxwell, Air Force Base and finished up back at Offutt Air Force Base in the Reconnaissance Division.
Some of the highlights of his time in the Air Force was in the SR-71 Blackbird. He flew 750 hours and was awarded the Distinguished Flying Cross for his part in the reconnaissance mission flown over the Golan Heights on December 10, 1973. Reg was part of the two-man backup crew for the New York to London record attempt on September 1, 1974. He loved his time in the Air Force, stayed in touch with his military comrades and attended many SR-71 reunions over the years.

After retiring from the Air Force in 1983, he returned to Southern California to work as the 2 nd
generation in the family insurance business, specializing in Church Insurance and retired for a second time in 2011. Reg was preceded in death by his father, Toney, his mother, Verlie and his daughter, Amber Bingham.

He is survived by his daughters, Regina Luker, from his first marriage to Jacqueline Kelly and Jennifer Leigh Zellmer, from his second marriage to Judye Blackwell, his brother & sister-in-law, Dr. Lee Blackwell and Dr. Kelly Barclay, grandchildren Lauren & Brent English, Trey & Kaitlyn Bingham, Luke Lamb, Tanner Bingham, Toney Bingham, Easton Zellmer and great-grandchild, Maggie English. He is survived by many cousins, nieces, nephews and extended family.


Previous Events
Graveside
Riverside National Cemetery
22495 Van Buren Blvd
Riverside, CA 92518